Sixth form boarders in 1975
---
Ring any bells?
Many thanks to Kaz Edwards (nee Stroud) and Jürgen Kariger for this one - a snap of the sixth form boarders in 1975 no less.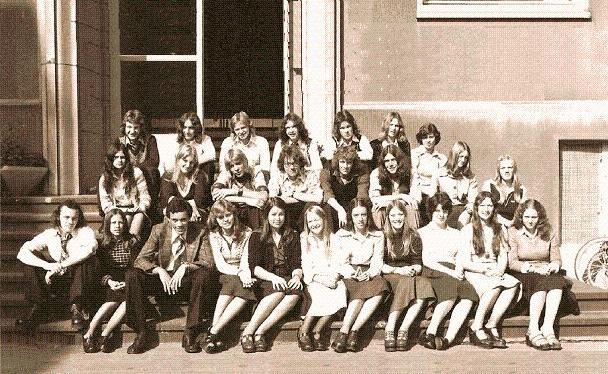 The line-up (as best we can make out) is:
Back row: Ian Robson, Max Drake, Kev Willers, Nick Heart, Tim Warren, Caroline McKalvie, Sharon Lamming
Middle row: Tracey Turnball, Ursula Weller, Ian Nicholson, Tim Simmons, Glen Riley, Nick Manley, Jenny Jones, Carol Maitland
Front row: Ron Rowley, Sharon Thomas, Christian Handchard, Bernie Forman, Theresa McKalvie, Julie Lucas, Liz Howard, Kathy Hill, Nichola Staniforth, Lesley Fenton, Karen Stroud
---
Karen writes
"I have a faint hope that some dormant minds may be awakened by reflections of the past.
I could recall most of the surnames bar the one of Christian 3rd. left bottom row.
My time at Kent School was during 1975, sadly only an interim solution due to a stay in Germany in-between postings of my father.
You can well imagine that I should be happy and excited to hear from anybody of that era who still remembers me and finds the time to drop me a line. I am now living as a Mother and Wife in an attractive area of Wales.
Kind regards, Karen"
---
Hi de Di wrote on the day the photo was posted up ...
Subject: 1975 Boarders photograph
"Hi Colin, the surname you are after is Handchard for Chris. Last heard of living around the Harrogate area and known to have met up again with Sharron 'Peanut' Thomas. Great photo to which I think I can remember just about all of them. xx"
RESULT!