Pirates - Sep 2004
---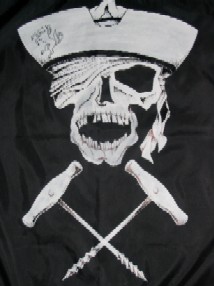 In the beginning there was a plan, to invade the Norfolk Broads as a crew of Pirates. It could only be Kenties ...
On the weekend of the 17th to the 20th September 2004 we all set off rosy cheeked to the back and beyond - inevitable really given that Plaidy produced the instructions of how to get there ...
... and onto the boats we went!
---
Kentie tube movies ...
---
There were the Pirates ...


A fine motley crew of Kenties!
There were the boats ...

Sometimes ours, sometimes others ...
There were the inevitable pubs ...

Pub 1 - The first landing spot

Pub 3 - A local pub/club in town

Pub 5 - The worst Weatherspoons in the country

Pub 7 - Genuine pictures
There were birds to feed ...

Lovely pictures of birds ...
And us to feed too - give them cake!


Kenties enjoying a birthday (or two)
And there were the windmills ...