Assembly awards
---

Click here to see the picture gallery from the Assembly!
Those of you that were there already know that there was a very low turnout in terms of voters, so the as voted for by you may not be strictly true. We had some experts look into possible reasons for the low turnout and they came up with two either everyone was to drunk to fill in the forms or Schmed pinched them all.
---
The Hunk and Honey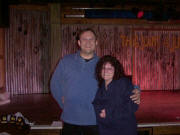 There were so many beautiful women to vote for we just couldn't bring ourselves to disappoint any single one of them. And despite strong campaigning by quite a few chaps there wasn't a single vote, not impressed then ladies. However, one story touched our hearts. It concerned two people who were in the 6th form together, had lost touch, met up again through the reunion site and are now an official couple. So we gave the awards to Saskia Gilbert and Alex Dady. We will be expecting an invite to the big day guys, all 185 of us!
---
The Most Difficult Journey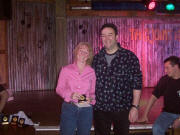 Firstly, hats off to everyone for making the journey, anyone who came through Bridgewater on Friday could be up for this award. From all over the UK you made the journey to Minehead, and further afield from Germany (North and South), and from Australia (all that way to hear me sing poor girl!). Through traffic jams and train delays no matter what.
One story stood out though, probably because the guy involved held surgery in our chalet every day and people came along and gave him advice. Donna Brown (McLoughlin)and her partner Fergus drove from Perth in Scotland and Fergus has a very bad back, Donna couldn't remember how many times they had to stop. They didn't arrive home until 6pm on Wednesday. We all hope the medal was worth all that pain Fergus get well soon.
---
The Party Animal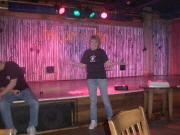 We did get some votes here, mostly for the Committee and the Chalet Bar. And some folk obviously thought that this award was still up for grabs on Sunday night judging by the state of the Chalet Bar on Monday morning. But the award went to someone who partied hard from the moment she arrived until she finally collapsed on Monday morning. Party by name party by nature it went to Party Jane Braithwaite.
---
The Reunion Memorable Moment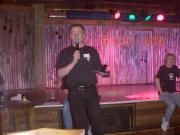 There were so many; the faces on arrival at group bookings, the first night meeting at Bar Rosso, the Karaoke afternoon, the chalet parties. We had loads of stories just everyone forgot to write them down. We did get one rather good one though, it's a bit of a case of you had to be there but this guy featured on so many forms we had to present him with one. The story reported to us was that the person in question was joining in with the Red Coat entertaining the children and as he ran across to dance with her, knocked some unfortunate child flying and promptly legged it. He also put in a memorable Karaoke performance so Schmed gets the award
---
The Funniest Person

Were there any unfunny people. We've never laughed so much in years. There were the hilarious karaoke performances, the fun parties and the very funny states some people got into. But Chairman Trudy and her quick wit and wonderful one liners stood out all weekend. She should be writing comedy not designing wedding dresses. Or is that were the sense of humour comes from Trudy, dealing with stroppy brides and their even stroppier mothers?
---
The Committee Special Award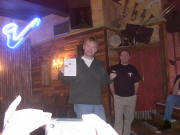 Was chosen by our very own Phil Allen and went to Nick Speight for coming up with the reunion motto "Kopf Schmerz in Mein Head" which seemed very apt. The next reunion is being sponsored by Anadin and headache tablets will replace fridge magnets in the goody bags.
We also presented a Committee Special Award certificate to Mark Benbow who made the mistake of bunking in a committee chalet, was promptly co-opted and put to work. Well done and thanks for all the unexpected hard work you put.
---
The Biggest Achievement Award (No picture!)

Not gonna beat around the bush here. This guy was hospitalised with a perforated ulcer just before the reunion and was so disappointed at the prospect of missing the event. So what did he do, as soon as he was discharged from hospital he made the rather slow and painful trip arriving Sunday evening. Hats off to John Mernor.
---
The Worst Karaoke

I love this guy, he made even me sound reasonable, well to most people. It was a truly unforgettable version of YMCA. To be fair to him, Stephen Diggle was set up by his mates but still showed what a good sport he is by carrying on.
---
The Greatest Dancer

This award was given to Glenn Jones who decided he would show his fellow male guests that he was "not" a real bloke. On arrival in the Jumpin Jaks night club, Glenn, unlike a real man, decided he would immediately hit the dance floor. Yes, not even a sip from his pint, he was there trying to show the teeny boppers he still had what it takes. The rest of us "real men" were left gob smacked and also unable to take a sip, but this time through laughing at Glenn "Travolta" Jones. Well done mate. We did however have the last laugh when he pitched up at the Chalet Bar the next morning, suffering from sciatica !!!