April 2002 | "Back in the Real World" Newsletter
---

---
So here we all are, back in the real world. Post-Reunion, hung over, spent up and worn out. But who cares? The pleasure was definitely worth the pain!
I can honestly say I had the most fantastic time ever and it was all thanks to everyone who attended, all in full-on, take-no-prisoners, hard-core good-times party mode. There are so many brilliant memories from the Reunion; I'm still chuckling to myself constantly. My husband thinks I've finally lost my already tenuous grip on reality, my work colleagues just look at me in a pitying way and my friends tell me I'll grow out of it. Truth is, I can't wait till the next one ...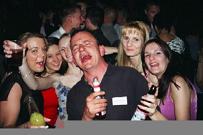 Lots of people have asked if they can help with the next reunion ... the short answer is 'YES'! we need to find more ex-Kent people for our next reunion ... it's a tall order but the next one needs to be even bigger and better than this one, and the only way to do this is to get more people who want to wreck their livers, sorry, attend a reunion and have some fun. So now is the time to start tracking down those old classmates. And if you know someone who went to Kent but couldn't make this Reunion, make sure you tell them in graphic detail exactly how much fun it was!
Big thanks have to go to a huge range of people, so here goes ... to Butlins for being very good natured about the whole thing, to all the local radio stations we nagged to give us some publicity (some of them did!), to Paul Dixon for being clever/mad enough to set up the Kent alumni site, to David Styles for the reunion idea in the first place, to The Blatchford Babes for making me laugh myself senseless all weekend, to Donna (never a disappointment ) and Fergus for being so laid back and hilarious, to Caz for her amazing cake, to everyone who attended the chalet bar (that's most of you then ...).
To Mark who was roped into being a new committee member whether he wanted to or not, and finally to my fabulous fellow committee members- Janie B, Ian, Daz, Phil, and Gerrie ... you all put in so much work and effort, and you made what could have been a tricky project into a total fun-fest. I consider myself blessed to have spent such great times with you, and to be able to work with you all again.
If you need reminding what a brilliant time we all had, or even just need cheering up, check out the updated website at www.kent2002.co.uk , I guarantee you'll end up smiling.
Trudy Hanson, Chairman
Reunion 2002 Committee
---
Hi everyone,
Well, after a very hectic three months getting the original Reunion web site up, published and running I have now had the time to reflect on its success and also a plan for the future. We have had over 10,000 visitors in the last four months.
Chat Room
It has been such fun to meet so many different people in the chat room on the twice weekly "Live Chats". If you have not yet been into the room, why not try it? Chats are on Tuesdays and Fridays at 9pm UK.
The Future for your Website
When the Minehead "Party" was over I spent 10 days getting the 2002 site filled with pictures and video clips from the weekend. I hope you have all been along and seen them.
It was during this period that I realised, after the huge success of Minehead, we would need a more permanent starting point for our "Surfing Crew". So we have a new name and unlimited amount of web space. No restrictions for any future sites or events. You can still use the www.kent2002.co.uk address if that's all you want to see.
The new web address will be the starting point for all things to do with "Kent School". From that address you will be able to link back to the 2002 site and to any future Reunion sites. 2002 was such a fantastic weekend it deserves to stay in the public domain for ever.
The new address is www.kent-school.co.uk . This is under construction, but available for you to link through to Kent2002. I recommend you save the new address in your favourites.
Web sites are of no use unless they have new and exciting content. For this I rely on your input. Anything from full screen video to a few lines on the message board makes the site worth visiting. So please keep the information flowing into my mailbox, webmaster@kent-school.co.uk
Spread the word
We all know about friends reunited, yahoo, MSN and other sites which try to get people together. Please make use of these other sites and lets find as many of the Old Kentonians as possible. Get them here to join our community web site and the next Reunion will be even bigger. Think we need a bigger "Chalet Bar" !!!!
Once again, thank you for all your support and input. Please keep the information flowing.....
Daz
Webmaster
---
Minehead Uncovered
You do think when setting out on a 350 mile journey to meet a bunch of folk you haven't clapped eyes on for years or met on the net, how did it all come to this. Well back in August 2001 a chance email conversation with Julie Greig (yes Julie I'm blamin you) led me to the Kent School Yahoo site.
From the first day I logged onto the site the talk was of a reunion, however thats all it was just talk. Now here I have to mention the missing David Styles who kicked the whole thing off with an "ok lets do it email". David promptly disappeared leaving us to do it but hey someone had to kick things off. If you are reading this David get in touch mate.
So 6 months of hard work ensued putting the reunion together. The initial committee of Party Jane, T-Shirt Phil and Chairman Trudy were quickly joined by Captain Cash Gerrie as our able treasurer. Then in January 2002 we were blessed with Webmaster (and party meister) DJ Daz.
We also got 190 nutters to sign up and part with their cash. Despite all this it was still with an air of anticipation that we made our way to Somerset. Would it all work, could we pull it off or was it gonna be a spectacular flop. We needn't have worried, you lot all went to Kent and were mad for it. I really couldn't have wished for things to go any better. As many have said the mix of years didn't matter at all. What an absolutely fantastic bunch of people, you really did make it for the committee, hats off to you all.
I'm not gonna write war and peace but just thought I would jot down some of my top 10 memorable reunion moments (in no particular order) here to share with you. For some to have meaning you just had to be there but what the hell.
Meeting of all the committee chums, Gerrie, Trudy, Janey, Phil in the car park at Minehead, massive hugs all round and feeling of we're here at last. Just the best people to arrange and spend a reunion with ever. New best mates for life.
2.Phone call whilst stuck in traffic jam outside Bristol "Its Trudy she is in same jam driving a big silver thing" then laughing as Trudy trundles down outside lane in jammed people carrier swearing profusely.
Anxious wait for my chalet buds Daz n Mark, well they had all the booze. Call from Daz "we're stuck behind a hearse"! Couldn't have wanted for two better blokes to share with, new friends made indeed.

Meeting everyone in Bar Rosso on the Friday night and realising, hey this is really going to come off.

The main event at the Swingin Shillelagh on Saturday, everything about it just blew me away. Nobody knows how to party like ex Kent School pupils. What would 400 of us be like (note to Daz, we are gonna need a bigger chalet mate).

The chalet bar parties, everyone just having such a good time. Even the clearing up next was fun, I think.

Thinking the event had burned itself out by Sunday then walking into assembly at Jumpin Jaks and finding everyone still ready for more, instant high again.

Committee photos at Assembly in Jumpin Jaks, it felt like we were being Paparazzi'd with the amount of photos being taken. Now I know how Posh N Becks feel.

The thanks, kind words and encouragement we received at every turn, if I had a pound for every one I would be a rich man. The very kind thank you speeches by Caz and Sylv brought a lump to my throat. We were just so glad you enjoyed it.

You lot, every last mad one of you. Sorry if at times to busy or knackered to talk, you lot made the weekend happen. We got you there, but you lot had to make the party happen and boy did you make it party big style.
As Vinny would would say "it's bin emotional" bit of a manic 6 months but so very worth it. Now lets see what we can do to top it!!!
Ian (formerly invisible now very real) Palmer
---
A Word from The T-shirt King
Hi folks,
You have no idea how pleased I was to see all those t-shirts filled by bodies at Minehead
I had no idea how to go about getting custom T-shirts made so flicking through Yellow pages I was surprised at the number of companies that offer this service.
It took a while to get the design right and many hours were spent at the PC. Advice from our own Trudy led to the format of white printing on a black shirt with the logo on both sides of the shirt.
After getting a few quotes I opted for a local supplier in Bexhill (the birthplace of British Motor Racing) who was able to supply the required numbers in the required time.
Magnetism
Many of you will have visited the Kent School Yahoo sites and be familiar with the photo of the main building. This was originally submitted by Guy Sudron in the photo album Colditz. Guy was kind enough to send me a high resolution version of his photo. This was converted to a line drawing by Barbara, my wife.
I found the telephone number of a merchandise supplier on a china mug from Tunbridge Wells. They also produce fridge magnets and keyrings at reasonable prices, so I ordered the quantities we needed using the line-drawn image of the school.
So many thanks to Guy for allowing us to use his photo as a starting point, and to Barbara for having the patience to redraw the school building.
Phil Allen
---
MONEY MATTERS!!
All I have to say is thanks to those of you who trusted us enough to send me your money!! After those "Barclays Bankers" let us down with the Kent 2002 bank account, I did wonder if we would get this off the ground, after all we didn't give ourselves much time, did we!! There were a few untrusting souls who decided not to part with their money in a cheque made out to me, understandable I suppose. As they didn't know me from Adam, or Eve for that matter, but they were in possession of my home address!! But as it turns out it was their loss because I don't think we could have possibly had a better time.
The nice people at the Halifax came to our rescue and have been ab fab to this day.
I myself have never been so rich and although it was tempting to dash off for a Caribbean cruise, I have to say I'm glad I didn't! Oh it was so much fun writing out cheques to Butlins for over £8,000……..Thanks to Jane and Phil for that fine Sunday afternoon sat in Janes house working that lot out.
You'll be glad to know that I am now working with the Halifax to open an account solely for Kent School Association, or reunion Fund…whatever we end up calling it, it will be a proper business type account, requiring 2 or more signatures on each cheque etc. etc. And although this is logistically more difficult for us (the Committee) we feel it has to be done.
So from me still sitting here so smugly remembering the sight of all those T-shirts in Bar Rosso on the Friday night, God that was so mind blowing!! And the fact that I had to drink Vodka at 10.30 on the Saturday morning to calm my nerves before our "Abba" tribute!!! And then cried when it was over!! Yes Andy B I am still all emotioned out!!!! Thank you all for turning up ready for anything, big hugs to my fellow committee members who are now my best friends forever, what did I ever do without you all?.x
Gerrie Maber
LET'S DO 2003
HOPE TO SEE YOU ALL AND MORE THERE
---
Copy of the Letter sent to Butlins at Minehead
Re - Kent School 2002 Reunion Minehead 12th-14th April
Dear Sir/Madam
I would like to take this opportunity to write and thank Butlins for the most enjoyable and memorable weekend spent at the Sounds Of The 60's weekend held at South West World Minehead
Six months ago a committee was formed to organise the first school reunion of the British Forces School, Kent School Hostert, BFPO 40 Germany. My task was to organise a venue. Not an easy task as initially we were unsure of how many people we would get to attend, given that most of us lost touch 30 odd years ago.
I contacted Butlins and was referred to Central bookings. The staff guided me though the minefield of dealing with a large group booking and the many changes to the numbers that were attending. All the staff were tremendous, but I would particularly like to thank Carol Whitehead and Harley who provided me with so much support and dealt with my almost daily phone calls with such infinite patience and understanding.
Having sorted out a booking. I needed to organise a venue, D.J. Buffet and a myriad of other arrangements for our own special party. I run out of adjectives when thanking Nicky Yorke and Carol Morris, who pulled out all the stops and much more above and beyond the call of duty, to provide us with the BEST party we could have had. Nicky remained on duty through out, providing me with her mobile number should I need to contact her if she was off duty. It was a pleasure and privilege to have had them both dealing with my sometimes mounting hysteria as the day of the event drew nearer and individual demands increased (for example the e-mail I received two days before the event requesting a special meal for someone who had Coeliacs disease). Nothing was too much trouble.
The event was superb! The DJ was brilliant, and the Buffet ... a BANQUET.
Every single member of staff, from the booking staff to everyone on the resort, were at all times fantastic. The accommodation was superb, clean and comfortable. At this point a special thank you to those unsung heroes the chalet cleaners…I THINK some of us left them with a bit of work to do. The door security people, the bar staff…everyone who worked so hard, remained enthusiastic and cheerful and totally professional at all times
A HUGE thank you to all staff at Butlins from 200 plus ex Kent School Pupils and teachers. The plaudits from individuals are too numerous to list, however please visit our website www.kent2002.co.uk and see for yourself!
This event was supposed to be a one off, but not only do the members want to have a reunion again next year, Butlins has been voted as the place we wish to use.
Many, many thanks from us all. But the biggest thank you from me. I couldn't have done it without Butlins
Yours Sincerely
Jane Braithwaite
Venue co-ordinator
Kent School Reunion Committee
---
And their reply ...