Contact us
---
Whilst most of us usually make an appearance on the Tuesday and/or Friday night Kenty chatroom (who says we don't have a life??), and attempting to get drunk as often as possible, the committee are still trying to sort things out for our beloved Kenty Association members!
You can contact the members of the committee by e-mail: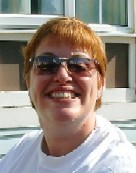 Trudy "Lady T" Hanson (Honorary life president)

trudy@kent-school.co.uk
Now known as "Il presidente", who was stupid enough to put Trudy in charge? A good question, but she's damned if she knows. It started innocently enough, a few messages on the Kent web message board ... the next thing she knew she was sitting in Bar Rosso at Butlins surrounded by Reunion-goers in Kent T-shirts. Trippy or what? I blame the parents. And pregnant too ... all due to the 2002 reunion! The plan was to cut out the drink/cigs/herbal goods, take loads of vitamins, step up the exercising, get fit and healthy ... and ... get knocked up. Weeeeeeeeellll ... she sort of managed to 'do the deed' Friday morning half an hour before leaving for the reunion. ReU baby obviously tough as a tough thing as it managed to survive a four hour drive to Minehead, weekend of maternal misbehaving and one week of staggering come-down after. Oh dear. A girl needs a hobby though.
---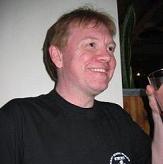 Nick "Sp8" Speight (Chairman)

nick@kent-school.co.uk
Arrrrrgh, Cap'n Nick! Now installed as our new Chairman we have hardy Reunion-goer Nick. Living in sleepy Hastings it seems hardly surprising that our beloved leadereen despatches himself to all of our merry get-togethers! The quiet, silent type ... Nick leaves us all wondering what he's thinking. Very wise Nick! Nick was a Kentie from 1981 to 1984 (3RD to 5TH year) and bunked down in Laarbruch. Apart from being a regular at all the reunions (he has the photos to prove it), more recently he has captained pirates around Norfolk and celebrated his 40th birthday in true Kentie style (draping himself over an Aston Martin and THEN a Bentley too). Aye aye Cap'n!
---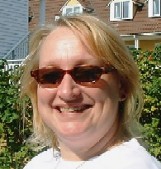 Gerrie "Boschdog" Maber (Treasurer)

gerrie@kent-school.co.uk
A Kenty bod betwen 1978 and 1980 (3RT & 4RT), she lived at RAF Bruggen and Donderberg in Roermond. She has a sister one year younger, Nicki. They did all the normal things, youth club etc. Mum was something to do with Guides so she never went there! She was mates with Donna McLaughlin as she was then ... have found loads of my year group but there are still some missing ... please step forward ... you know who you are!!! She went on two school ski trips, '78 and '79 and still have the pictures ... dodgy wigs and all ... any one else remember them??? Got involved with the reunion through Trudy our esteemed chairperson, trying to make up for the time she attempted to pierce Gerrie's foot with her stiletto heel whilst we were at a concert in the Phillipshalle, Dusseldorf! Now lives in Swansea, South Wales (yes, the place it rains most of the time!!), with her partner of ten years or so, Andrew and a rottweiler called Bosch. As so many of us seemed to do, she joined the RAF after college and did twelve years, which is where she met Andrew. Now working for a private Custodial company.
---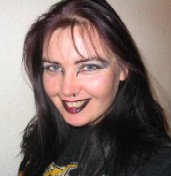 Caz "Dragula" Streeter (Merchandising)

caz@kent-school.co.uk
Caz attended Kent from late 3rd year to end of lower 6th back in '82-'85.. ish ... She boarded at Medway for first couple of years. Happy memories of chucking others in the "sludge baths" on their birthdays and other antics. Then went on to be a day bug from Laarbruch although lived in Weeze. Caz caught up with the Kentie family via the Friends Reunited site, attended the first reunion (in 2002) and volunteered to bake the cake (and a mighty fine cake it was too! Webmaster). She's been involved with the KSA since ... especially if it means an excuse to party and meet like minded friends. How many sleeps until the next reunion now, Caz?
---
Colin "The Shirt" Miller (Webmeister)

webmaster@kent-school.co.uk
What can be said about this guy?? Having arrived at the reunion with the loudest collection of shirts known to mankind he seems to have acquired the title of "The Shirt". A Kentie bod 1973 to 1976 he was there to see the awful 70s dress sense, burning our names into the tarmac with OHP lenses, forging dinner tickets (why? why?) and Bohemian Rhapsody. And talking of bohemian - he was also involved in the blockbuster plays "The Thwarting of Baron Bolligrew" and "Happiest Days of Your Life". He also led the school's radio quiz team to ingominious defeat to Queens School - thus maintaining the reputation of the school as more fun than educational?? Having learnt nothing, Colin now lives in London, works for an IT Consultancy where he tests websites, and for a hobby he manages websites too! Boys and their toys ...