Welcome to the Kentie home page!
---
| | | | |
| --- | --- | --- | --- |
| Tonbridge | Canterbury | Maidstone | Rochester |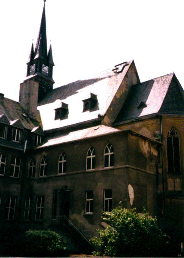 ---
New Guest page and Message Board
I've just completed a major rework of the Guest page and all our message boards on the Kent School Association website, migrating all data from little text files with a proper SQL database. I guess I'm the eternal geek.
The main reason is that both are now totally searchable, and the navigation is much improved, so you can wander around looking for those names you've been wondering about and find out if anyone is looking for you. I've also added support for the Jürgens and Mönchengladbachs of this world. Happy tapping.
It also makes it easier for me to get rid of all the Viagra postings too …
You can add some feedback by [clicking here]
Colin the Shirt
---
Another visit to the old girl …
[Click here for an aerial view of the school …]
A number of ex-Kent School pupils visited the area over the weekend 24-27 May. A few of them stayed at the Best Western Hotel in Mönchengladbach arriving early evening Friday 24 May.
They visited JHQ in the morning 25 May and then onto old haunts. A visit to the school site was proposed for afternoon of Saturday 25 May (in the end viewing from outside the school grounds).
A shopping trip to Roermond (I remember those!) was also mooted for Sunday 26 although there are many interesting attractions nearby. There is a partially reconstructed Roman town at Xanten up the Rhine, or the museum at Neanderthal just east of Dusseldorf.
Be prepared for more nostalgic photos on this site!
Thank you for that update Phil!!
And thanks to Simon Graeme for the first pictures (click here), and Phil Allen for a great set of snaps [from the trip to JHQ - click here]!
---
New look website
PHEW! The new website has arrived after more than two years development! Hopefully this will bring more interesting content - and a new excitement about having another reunion. It was 11 years since the first one and six years since the last refresh. All the picture gallery photos are up as are all the Reunion ones!!! In their fresh location it's been really fun rolling through the memories as I've been creating each page.
I hope you enjoy this new look too!
Please send pictures of any get togethers - I know they are scattered across Facebook and such, but it would be nice to have this as a repository of all pictures (if possible).

If you want to feedback any thoughts on the new-look website, click HERE
---
Please play fair folks
Just a quick reminder to all that this is not a website to anonymously slander other folk or wind up people up with nonsense on horse or dog names. I know things have been too quiet on this website but I am doing the best I can. This is a free resource (paid for by me alone) so please respect this.
Thanks
Colin the Shirt
webmaster@kent-school.co.uk
---

The Teachers 1976
A wonderful old picture from Terry McNulty of the teachers in 1976 - [CLICK HERE]
Check out our picture gallery for more!
---
BFBS visit the old school
The old girl is famous - and it's been on the BFBS TV service. Well done Des Lacklison for the guided tour - and did you know we were up in the top 25% of British schools? You do now!
[Click here to leave some feedback on the video on our 'online community' website]
[Click here to go to the original BFBS website page]
---
A fantastic gallery of pictures of how the old girl looks at the moment - well done Urban Adventures! She is certainly showing her age, and the fact that she has not been well looked after. It's a shame!

[Click here to go to the Kent School gallery at Urban Adventures]

---
Jürgens history

Jürgen Kariger has found the stunning aerial view of the old buildings which he found on the Waldniel history website. If you want to read more about what Jürgen remembers of the old school - click HERE - to read more of his story